The Evergreen Chamber Orchestra is not your ordinary musical experience. In the beautiful setting of the Colorado Rockies, up to forty musicians will delight you with music of all eras.  ECO is now in their 35th season!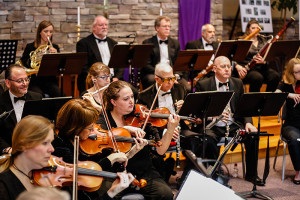 Our Sunday afternoon and Tuesday evening concerts in Evergreen and Littleton will inspire and entertain you with music from the greatest classical composers like Bach, Beethoven, and Mozart to those of our own times such as Astor Piazzolla and John Williams. On special occasions we will tantalize you with top quality instrumental and vocal guests.
And, would you like to enjoy an afternoon of informal music with our musicians? Our recitals take place in the wonderfully intimate settings of churches, Center for the Arts Evergreen and private homes. You will be entertained by ensembles of our musicians and get to know them and their wonderful musical selections "up close and personal."
Throughout the year we also have special events for all ages. We would like to welcome you to our musical family and share our love of music.