Letter from William Hill, Director of the Evergreen Chamber Orchestra
September 12, 2017
Dear Friends of the Evergreen Chamber Orchestra,
Welcome to our 2017-18 Concert Season! I'm thrilled to continue as the ECO's Music Director after three highly successful seasons, and we have another series of great concerts in store for you. We are performing all of our classical programs twice this year, in Evergreen and the Denver metro area. We continue to thrive and grow artistically and organizationally with your support as audience members, corporate sponsors, donors, and volunteers.
Our first series on October 1 and 3 features Colorado Symphony Principal Oboist Peter Cooper in Ludwig August Lebrun's beautiful and exciting Concerto #1 in D Minor. Handel's spectacular Royal Fireworks Music opens the program and we will conclude with Brahms' Variations on a Theme of Haydn.
Our concerts November 12 and 14 showcase University of Denver Guitar Professor Laura Husbands playing Rodrigo's iconic Concierto de Aranjuez. This beautiful and virtuosic piece of Spanish impressionism will be proceeded by my composition trois poesies sans mots (three poems without words) based on French impressionist paintings by Van Gogh, Monet, and Cezanne. Schubert's Symphony #1 is our finale for this series.
In our concerts on March 11 and 13 we proudly present Concertmaster Kathy Thayer playing Mozart's Concerto #3 in G Major for Violin and Orchestra. These concerts also feature the beautiful and flashy Waltz from Tchaikovsky's Serenade for Strings, and Mendelssohn's Symphony #1. You might be interested to know that Schubert and Mendelssohn composed their first symphonies as teenagers. Like the young Mozart, the talent and maturity of their prodigious genius is completely apparent in these early works.
For our final classical concerts on April 29 and May 1 we'll perform my new piece Metamorphosis for Solo Marimba and Orchestra which was premiered by the Lone Tree Symphony in May 2016. Metamorphosis is just what the title suggests; each thematic idea is repeated with gradually altered variation until the original idea has morphed into a completely new sound. The solo marimba part is sometimes written as a sketch so the performer improvises to fill out the structure. This of course means every performance is unique. We will conclude our 2017-18 Classical Series with one of the great Beethoven's masterpieces, Symphony #7 in A Major.
The Evergreen Chorale's Altezza again joins us for our Family Holiday Concerts on December 16 (afternoon and evening) at the beautiful Church of the Transfiguration. There will be the usual sing-along carols, Strauss Waltzes, Handel's Messiah, and other fun surprises. Get your tickets early as this sells out well in advance. In a new collaboration this year we will perform the Mozart's Requiem twice in May with the Evergreen Chorale under the direction of their Artistic Director Christine Gaudreau.
We had a really fun sold out Classic Night Concert Fundraiser at Cactus Jack's to kick start our season. ECO musicians will again be doing four chamber music recitals, and our end of season Jazz Gala with my incredible Jazz/Latin/Fusion colleagues. Please go to the Evergreen Chamber Orchestra website for all updates, special events, support opportunities, and tickets.
I want to thank every one of you for supporting the Evergreen Chamber Orchestra in our mission to bring the highest level of concerts to Evergreen and Denver. We constantly strive to produce a diverse and entertaining array of concerts and recitals with artistic excellence, an informal elegance, a family friendly atmosphere, and events that are fun for the audience and performers alike. Thank you to our corporate sponsors, our individual donors and volunteers, our very hard working Board of Directors, and our Evergreen Chamber Orchestra Guild. AND my personal gratitude goes to every musician for their high commitment to excellence at every rehearsal and concert, their positive energy and attitude, and their sharing the most valuable resources any of us have; time and friendship.
Sincerely,
William Hill, Music Director
William Hill, Music Director

     
William Hill has been acclaimed as a composer, soloist, artist, and conductor. Currently he is Principal Timpanist with the Colorado Symphony, Music Director of the Evergreen Chamber Orchestra, and teaches composition at the University of Denver. Hill has served as a composer with the Ohio Chamber Orchestra, National Music Festival, Grand Rapids Symphony, Colorado Symphony, Moravian Philharmonic (Czech Republic) and the Nova Series of Salt Lake City. He has performed as Timpanist with the Honolulu and Omaha Symphonies, the Grand Teton Music Festival, and the St. Paul Chamber Orchestra.
Hill has won numerous awards as a composer and performer from ASCAP, Indiana University, The Percussive Arts Society, and The Music Academy of the West. His Symphony #3 (2012) and tone poem The Raven (2015) for orchestra and chorus, premiered with the Colorado Symphony and both were nominated for the Pulitzer and Grawemeyer Awards. New compositions include El Perro Azul for Violin and Orchestra, Metamorphosis for Marimba and Orchestra, and Soundscape for Electronics and Orchestra composed by Colin and William Hill.
As a conductor, Hill has led the Colorado Symphony, Evergreen Chamber Orchestra,groups at the Grand Teton Music Festival, and other Colorado orchestras. His Jazz and World Music groups are long time audience favorites and he has been the subject of feature articles in local and national publications. Recordings of Hill's music have won high praise internationally.
 William Hill is married to violinist Natalie Schmitz Hill and their two grown children areboth excellent professional musicians. They maintain busy performance schedules as a family and individually. The Hills love living in Colorado for its incredible natural beauty and its great arts scene.
---
Katherine Thayer, Concertmaster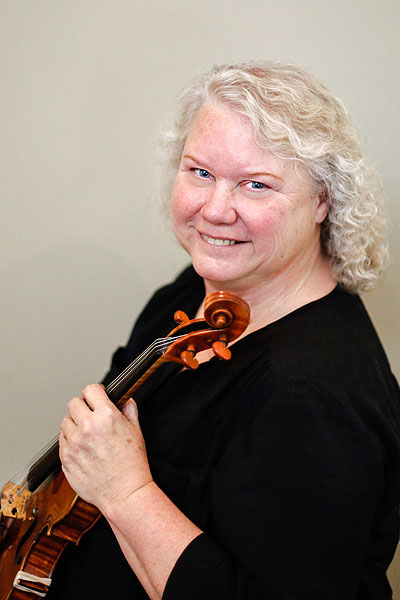 Katherine Thayer is in her 16th season as concertmaster of Evergreen Chamber Orchestra. In addition, she is concertmaster of the Denver Philharmonic Orchestra (12 years) and performs with Inside the Orchestra, bringing music to school children (30 years). Katherine also enjoys her performances with her group Voice of the Wood Chamber Players who are heard frequently at ECO recitals and DPOs Dazzle Jazz Club performances.
Katherine was principal 2nd violin and soloist with the former Denver Chamber Orchestra, JoAnne Falletta, conductor. She enjoyed performing for five summers at both the Colorado Music Festival and Grand Teton Music Festivals.
Prior to moving to Colorado in 1984, Katherine was an Assistant Professor of Violin and Chamber Music at Eastern New Mexico University where she performed as violinist in the Raphael Piano Trio. Her violin studies include a Masters Degree from Michigan State University when the Juilliard Quartet was in residence, and European studies with Zino Francescatti, Christian Ferras and Alberto Lysy.
She held positions in the first violin sections of the Kamarata Lysy, the Wurttembergishes Kammer Orchertre and the Mozarteum Orchestra of Salzburg touring frequently throughout Europe and the Philippines. She will be returning to Europe this October as part of an exchange program with the Bayerische Philharmone in Munich. She looks forward to seeing Salzburg again after so many years.

Katherine delights in watching her daughter Ayla's professional dance performances and reading Chamber music with close friends.