William Hill, Music Director

     
William Hill was appointed ECO's Music Director in 2014.  Mr. Hill has been critically acclaimed as a composer, soloist, visual artist, recording artist, and conductor. Currently he is Principal Timpanist with the Colorado Symphony, Music Director of the Evergreen Chamber Orchestra, and teaches composition at Denver University's Lamont School of Music. Mr. Hill has served as a composer with the Ohio Chamber Orchestra, National Music Festival, Cheyenne Symphony, Strings in the Mountains Festival, Grand Rapids Symphony, Colorado and Denver Symphonies, and the Nova Series of Salt Lake City. He has also performed as Principal Timpanist with the Honolulu and Omaha Symphonies, the Colorado Music Festival, Grand Teton Music Festival, and the St. Paul Chamber Orchestra.
Mr. Hill's Symphony #3 premiered in 2012 with the Colorado Symphony and was nominated for both the Pulitzer and Grawemeyer Awards in Music Composition. His tone poem The Raven (based on the E. A. Poe text) for large orchestra, chorus, and electronic chorus was commissioned and premiered in 2015 by the Colorado Symphony Orchestra and Chorus, and received excellent audience and critical response.
As a conductor, Mr. Hill has led the Colorado Symphony, Denver Chamber Orchestra, Greeley Chamber Orchestra, Aurora Symphony, Evergreen Chamber Orchestra, various groups at the Grand Teton Music Festival, and numerous Denver area groups. He has been the subject of feature articles in numerous local and national publications.
William Hill is married to violinist Natalie Schmitz Hill and their two grown children are both excellent musicians. They maintain a very busy performance schedule as a family and individually. The Hills love living in Colorado for its incredible natural beauty and its great arts scene.
---
Katherine Thayer, Concertmaster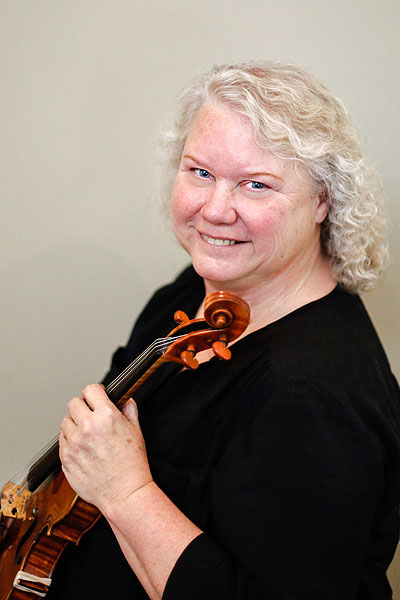 Katherine Thayer has been a professional violinist for over 30 years, including 14 years as concertmaster of ECO. She studied and performed in Europe with Zino Francescati, Christian Ferras, and Alberto Lysy in Switzerland. She also performed as a member of the Camerata Lysy, the Wurttembergishes Kammerorchestre, and the Mozarteum Orchestre. Katherine received a Master's Degree in Music from Michigan State University.  She was an Assistant Professor of Violin and Chamber Music at Eastern New Mexico University and a member of the Raphael Piano Trio. Since moving to Denver, Katherine has performed with the Denver Chamber Orchestra, the Denver Center for the Performing Arts Theater Orchestra, the Colorado Ballet Orchestra, the Grand Teton Music Festival, the Colorado Music Festival Orchestra, and the "Inside the Orchestra" performance group. She is also concertmaster of the Denver Philharmonic Orchestra, and actively freelances throughout Colorado. Katherine is the mother of grown daughter Ayla, and says that her greatest pleasures are playing chamber music with friends and watching Ayla's dance performances.