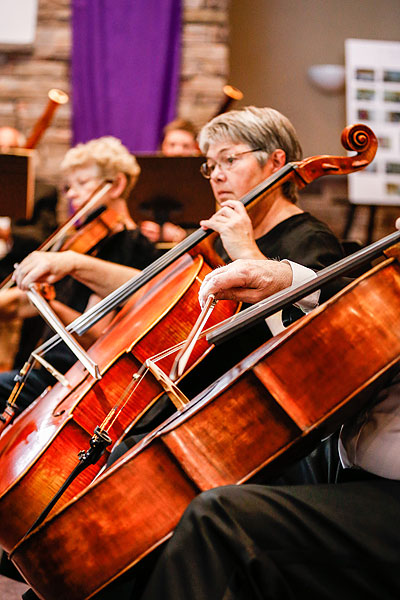 The Evergreen Chamber Orchestra was formed in 1983 by local musicians (mostly Evergreen and mountain area residents), who had been playing together informally for the previous two years. Dr. William Morse of Metropolitan State College of Denver was selected as music director and principal conductor. A Board of Directors was formed from musicians and local business members, and the non-profit Evergreen Chamber Orchestra Society was created.
Early rehearsals and concerts were held in a number of local schools and churches, with the orchestra moving to Rockland Community Church near Genessee which was its home for more than 20 years. The orchestra quickly attracted a loyal following of enthusiastic supporters and as of this season is now doubling all their concerts to include concerts in both Evergreen and the SW suburbs of Denver.
ECO's Music Director William Hill is now in his 4th season with the orchestra and under his baton ECO has been flourishing!  Mr. Hill is critically acclaimed as a composer, soloist, visual artist, recording artist, and conductor. He is Principal Timpanist and Composer with the Colorado Symphony Orchestra and teaches composition and counterpoint at Denver University's Lamont School of Music.  Bill is also an accomplished jazz musician and his band "Bill Hill and Friends" have been featured at ECO's annual Jazz Gala the past three seasons. ECO has performed several of Bill's compositions and will do so again at the November and May concerts this season.
ECO has performed continuously in Jefferson County for the past 36 years. During ECO's 2017-18 season you can enjoy their fabulous concerts at Evergreen Lutheran Church and Church of the Hills in Evergreen, Bethany Lutheran Church in Cherry Hills Village, and Genesis Presbyterian Church and St. James Presbyterian in Littleton. ECO's performance season for 2017-18 consists of eight orchestral concerts, our 3rd annual Classic Night at Cactus Jack's Saloon & Grill, two Holiday Concerts on December 16th with the Altezza Chamber Choir, the Mountain Area Orchestral Festival (held at the Evergreen Middle School), two performances of Mozart's Requiem with the Evergreen Chorale on May 12th and 13th, and a wonderfully intimate chamber music recital series. Dates and programs for the 2017-18 season can be found here.