Thank you to all who donated generously to ECO on Colorado Gives Day in December 2017!
Your generosity makes it possible for ECO to flourish and present inspiring orchestral concerts and recitals to our communities.
Bringing Music to Life Presents 2018 Instrument Drive
March 5-17 
Learning to play an instrument can have a profound, positive impact on a child, teaching valuable life skills and boosting confidence and self-esteem.  And that instrument you have at home can help make it happen. 
 
From March 5th through the 17th, Bringing Music to Life will hold the 2018 Instrument Drive, collecting donations of gently-used band and orchestra instruments that will be repaired and awarded to deserving music programs throughout the state.  
  
 Complete information about the upcoming drive is available at www.bringmusic.org.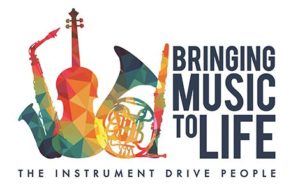 Welcome to ECO's 36th Season!!!
Click here

for a letter from William Hill, ECO's Music Director, regarding our 2017-18 season
Click here

for the details of ECO's 2017-18  season, which is our most expansive ever!!! 

Join us on

Sunday, February 11th 2018 at 3:00 pm

for ECO's Prelude to Spring Chamber Recital.
The Center for the Arts Evergreen provides the perfect venue for ECO's first chamber music recital of 2018!  CAE's exhibit titled "Bountiful Beauty: The Many Facets of Front Range Art" will be on display during the recital, telling a story about what this region means to its various artists and inhabitants.
Enjoy an exciting and varied selection of music for small ensembles performed by ECO musicians and their musical friends while surrounded by inspiring art works.  You'll be serenaded by music from 6 different composers: Chopin, Prokofiev, Boccherini, Bartok, Glazunov, and our very own Music Director William Hill!!  This is a recital not to be missed!
Purchase your tickets here or at the door.
Meet Our Music Director, William Hill
William Hill has been critically acclaimed as a composer, soloist, visual artist, recording artist, and conductor. Currently he is Principal Timpanist with the Colorado Symphony and teaches composition and counterpoint at Denver University Lamont School of Music. Come in and meet him >
ECO is seeking a new BOARD MEMBER with ties to EVERGREEN'S BUSINESS COMMUNITY
The Evergreen Chamber Orchestra has an opening on their Board of Directors.  ECO's Board is comprised of 9-10 community and orchestra members who share a love of classical music, and enjoy working with ECO's Music Director Bill Hill (Principal Timpanist and Composer of the Colorado Symphony as well as an amazing jazz musician/composer) to promote the orchestra's mission.  ECO has flourished the past 3 years under Bill and the Board's leadership, and has more than doubled their annual concerts, recitals and fundraisers in the foothills and western Denver.
We are seeking a member of Evergreen's business community to help spread the word about our wonderful orchestra and connect ECO with local corporate sponsors.  If you'd like to find out more about this opportunity, please contact Julia Barrett MD, President of ECO's Board of Directors (and ECO violinist) at jbarrettviolin@gmail.com.

ECO's Prelude to Spring Concerts
On March 11 and 13 we proudly present ECO's Concertmaster Kathy Thayer playing Mozart's Concerto #3 in G Major for violin and orchestra. These concerts also feature the beautiful and flashy Waltz from Tchaikovsky's Serenade for Strings, and Mendelssohn's Symphony #1. You might be interested to know that Schubert and Mendelssohn composed their first symphonies as teenagers. Like the young Mozart, the talent and maturity of their prodigious genius is completely apparent in these early works.
Sunday, March 11, 2018, 3:00 pm
St. James Presbyterian Church
3601 W. Belleview Ave., Littleton
Tuesday, March 13, 2018, 7:00 pm
Evergreen Christian Church
27772 Iris Dr., Evergreen
Auditions for Violin
Evergreen Chamber Orchestra is holding auditions for violin. To schedule an audition, please leave a message at 303-670-6558 or email ECO at info@evergreenchamberorch.org.
ECO's New Mission Statement!!!
We are pleased to share with you, our audience, ECO's new Mission Statement.
The Evergreen Chamber Orchestra's mission is to share the gift of live music in an intimate setting with a diverse community of musicians and music lovers.
We promote the appreciation of excellence in orchestral and chamber music through concerts, educational programs for students and adults, volunteer opportunities, and the commissioning and performance of new works.
Support the Evergreen Chamber Orchestra – It's Easy
ECO relies on the support of patrons to maintain our array of musical programs. The good news?  There are a number of quick and easy ways to help.  Visit our support page to learn about some simple actions you can take that help us continue to bring music to the Foothills and Jefferson County. NEW! Donate your old or unused car, truck, boat, RV, or other vehicle and receive a tax donation. Learn more >